Hentet fra www.boatpoint.com.au
Bavaria 33 Cruiser (February 2007)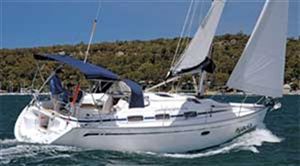 With a sturdy and predictable motion through the water, the Bavaria 33 is an ideal craft for club racing or just cruising about
I had just spent the best part of a week gadding about the Hawkesbury and Pittwater when the Bavaria 33 came up for a test sail. Then, as in now, it is a perfectly sized yacht for holidaying aboard on, for cruising the coast, for a spot of twilight racing and, for me, just hanging out.
While the tenet in the last few years of yachting has been 'bigger is better', savvy boatbuilders have also been seeding the industry with plenty of smart new entry-level craft. But the Bavaria 33, which replaces the 34-footer, is a much bigger yacht than I ever imagined. One of the new generation Bavarias, the Bavaria 33 features full head room thanks to its raised coach house. Lighter mahogany joinery, new skylights for natural light below, and more curvaceous mouldings modernise the yacht. And while it might not seem apparent because of the depth of the hull, the cockpit is still a good size.
Remove the wheel, which you can do in a matter of seconds, and the cockpit is set for you to do lunch. Along with a timber table there's an icebox and comfortable seating for six. And, because it's a two-cabin yacht, you get a large aft storage locker in which to store the ducky and outboard.
GERMAN BUILD
I noticed that the Bavaria 33 barely moved when I set foot aboard. Compared to some of the competition, Bavarias are very solid, sturdy and stable yachts made for cruising above all else.
In Australia, as in the rest of the world, Bavaria holds down the number two spot. The German yard has enjoyed 15 per cent growth each year, I'm told, and the importers shift one new yacht per week here. But there is a new push on to dominate the 30 to 50ft yacht market and, locally, have a bigger presence in the charter fleets following imminent new tax rulings sure to stir that market.
In fact, the Bavaria 33 comes in a Whitsunday version with more water, a freezer, heavy-duty anchoring gear, an extra battery, and barbecue. You can also get aboard these yachts via share syndicates run by outsourced management companies, and the importers talk of terrific resale value, too. This is comforting since this 33 might become a stepping stone to bigger Bavarias.
On the recreational front, in my local waterways, there were three 33s on Pittwater already: one was owned by a first-time yachtie, but the two other two were chosen by experiences sailors who had tired of their old 30 something yachts and upgraded for the sake of more comforts.
JUMPING ABOARD
Priced from $215,000 sail-away, the Bavaria 33 not only provides a foot in the bluewater sailing door, but as tested with a boatload of options, taking the price to $223,000 (plus aftermarket spinnaker gear), the 33 was a very comfortable craft for club racing, social twilight racing, and just cruising about.
The optional bimini and dodger provide additional weather protection, making this an all-season yacht, while the Raymarine electronics package had everything but autopilot for intelligent helming. Not that this is a difficult
yacht to sail, mind you. Au contraire, it's something of a no-brainer and you won't get in much trouble at all.
Keeping company with plenty of other Bavarias, the 33 seen here was tied to the Royal Prince Alfred Yacht Club in Pittwater. It was destined to sail in mid-week races as well as judging by the safety gear some short offshore stuff. For this, the Bavarias appear to be built strong.
Construction is all solid handlaid GRP glass below the waterline, with an integral GRP stringer system to which the chainplates are bonded, and Kevlar reinforcing in the bow sections just in case. The bulkheads and furniture are glassed in and the standard 1450kg, 1.85m-deep, cast-iron keel appeared well attached with big keel bolts and plates. There is also a 1.5m shoal-draft keel option.
The rig comprises a fractional 9/10th deck-stepped aluminium Selden double-spreader stick with rod kicker or solid vang, Furlex roller furler headsail, battened main, lazy jacks and boom bag, and a 10:1 adjustable backstay. The yacht has a single-line reefing system, too.
The traveller is forward of the cockpit on the raised cabin top and, therefore, nicely out of the way during social sails. The Bavaria 33 can be sailed with as few as two in twilights and four to six in kite races and coastal jaunts.
As with all modern yachts, all the lines lead back to the cockpit, with the twin self-tailing winches for the halyards and the clutches behind the dodger, two-speed ST40 primary winches for the headsail ahead of the helm,
and this yacht had a pole with additional two speed ST30 spinnaker winches aft. The winches and adjustable cars are from Lewmar, the clutches from Rutgerson. A couple of nice things about the deck: the non-skid
and lifelines have intermediate wires. The yacht also comes with a windlass for push-button anchoring. All the cleats, stainless steel deck gear from stanchions to pulpit, are sturdy.
CRUISE-READY
Meantime, there was a useful walkthrough transom with lift-out helm seat, a swim ladder, a boarding platform large enough to sit on, a hot/cold shower, and 9kg gas bottle (stainless steel model supplied in a locker). The cockpit seats can seat six around the folding teak table and pedestal. Add boom tent for shade.
The groovy, moulded pedestal or binnacle is consistent with the recent revamp and modernisation of Bavaria's entire yacht range which, of course, now includes the contemporary Vision performance deck-saloon yachts. A design statement, the curvaceous pedestal had carbon-fibre dash panels, room to flush mount, in this case, the C70 Raymarine chartplotter, plus standard-issue Tridata and ST60 wind gauge and compass. All the controls for the Volvo Penta D1-20 three-cylinder diesel, with Saildrive, and the fuel gauge were also on the pedestal. There were no problems with engine access. I could reach the fuel filter, sea-strainer, dipstick, belts and coolant
bottle. I also noted sound insulation and a handy 150lt fuel supply. And the 210lt water tank can be boosted to an optional 360lt model on this yacht.
The Bavaria 33 comes standard with shorepower, a battery charger, one 140-amp house battery, and a separate 55-amp engine crank. The digital battery management system includes low-voltage alarms, all coded wiring, and a trendy switch panel at the nav station with push-button multifunction panel and water and holding tank gauges. The AC side of things can run the hot-water service, fridge and 240V outlets. Simple stuff.
INTERIOR GLOSS
The lighter mahogany joinery, the blue upholstery, the new forward skylights, the deck hatches with shade screens, the abundant opening portlights and close to two metres of headroom all help make this a cheery 33-footer
below. I thought the white, moulded liners appeared better finished and more refined and the sikaflex wipes were cleaner than on the Bavarias of yore.
The L-shaped galley immediately to port features pressurised hot and cold water, a gimballed two-burner gas cooktop, oven and stove, a deep sink, a 12/240V fridge (freezer optional) and a good amount of storage and food prep space.
The counters have fiddle rails and, together with various handholds, this is an easy yacht to move through in a seaway. The big settees, which can easily seat eight people before the dinette with folding leaf, can be used as seacots. Storage lockers and drinkholders are plentiful in the saloon, too.
Opposite the galley is a decent navigation station with the AC/DC management system, storage for charts and tools and personal effects, VHF radio and the supplied marine sound system with CD player. Behind here is the yacht's sole head.
A dedicated wet room with head room, the head has hanging space for the foulies, electric Jabsco throne as standard, and handheld hot/cold shower. There's an opening port and a manual sump pump. But why? What's wrong with a float switch? Space constraints, perhaps?
Accommodation is split between fore and aft double berths, each with storage lockers and hanging space, and head room at the foot of their beds. However, for my money, the aft bed is by far the biggest and, at the most
stable part of the boat, bound to provide an especially deep sleep. Cross flow ventilation comes courtesy of two opening ports. This is a big 33-footer that will provide bona fide competition for many 35-footers in the
accommodation stakes. With just two cabins, it doesn't compromise, and that giant cockpit storage locker will ensure everything follows you to your destination.
SHORT, SWEET SAIL
My destination was nowhere in particular. But a sprightly 15 to maybe 18kts of a typical summer north-easter ensured I had a decent sail and that the 33-footer was put through its paces. According to the GPS, we were doing 6.5 to 7kts upwind and a bit more when heading home.
The helm is balanced, the vision forward pretty good, and the yacht gets along in a determined manner. Nothing too racy, with 57sqm of sail and a 5400kg displacement, but speeds will be fast enough to get you to where
you are going. Thankfully, the importers fit a three-blade folding prop as standard. In many ways, the 33 is all you'll ever need. It's a big little yacht perfect for a family of four or two couples, built to CE Category A for offshore work, with a reassuringly sturdy and predictable motion through the water.
HIGHS
A nice little cruiser and club racer


Good value for money

A lot of yacht for your buck

Huge two-cabin interior

Standard boat includes things such as windlass, folding prop, electric head and more that other 33s don't

Seaworthy and predictable motion

Built to sail offshore

Local importers offer excellent support


Good resale value, owner events and club competition from other Bavaria owners
LOWS
No freezer

Where's the rail-mounted barbecue?

Lift-out instead of hinged helm seat

Manual shower sump pump

Some might like a bigger cockpit

Not the fastest 33-footer around town

BAVARIA 33
CRUISER
HOW MUCH?
Price as tested: $223,000, excluding aftermarket spinnaker gear
Options fitted: Bimini, dodger, upgraded Raymarine electronics, winch covers, wheel and table covers, extra battery, and more
Priced from: $215,000
GENERAL
Material: Handlaid GRP with foam sandwich above the waterline; Kevlar reinforced collision section in bow
Type: Monohull
Hull length: 10.25m
Waterline
length: 9m
Beam: 3.48
Draft: 1.85m
Displacement: 5400kg
Ballast: 1450kg
CAPACITIES
Berths: 4+2 on sea berths
Fuel: 150lt
Water: 210lt
ENGINE
Type: Volvo-Penta D1-20
Rated HP: 18
Drive: Saildrive
Prop: Three-blade folding
SAIL AREA
Main and furling headsail: 57.3sqm
SUPPLIED BY:
North South Yachting
Quays Marina, 1856
Pittwater Rd
Church Point, NSW 2015
Phone: (02) 9998 9600
Website: www.northsouthyachting.com.au

Published : Thursday, 1 February 2007